One of the most important things we do here at PERIOD is serve our communities by providing products to those who are in immediate need of them! You as a chapter will do this by fundraising, hosting product drives & other events, and establishing relationships with service partners in your local communities who distribute menstrual products to people in need. Read below for guidance on establishing a relationship with service partners, ordering products, hosting a service event and more!

Product Order Form
PERIOD HQ's major focus right now is serving the marginalized communities that are being hit the hardest by this global crisis. We want to serve as many people as we possibly can across the country.
If you would like to order products, make sure to fill this form out, and we'll get the ball rolling from there. Please email service@period.org if you have any questions!

Service 101

Partners

It is important that before you host an event, hold a drive, order menstrual products, etc., that you find a service partner in your local area to distribute the products to.
Take a look online or ask around about some local organizations that are in need of donated period products (such as homeless shelters, food pantries, LGBTQI+ resource centers, domestic violence support organizations, free clinics, etc).
Some partners prefer products in their original packages and some prefer packs so it's very important that before you do anything, that you check in with your service partner and find out what will serve their patrons best.
Below we have included some basic email templates that should be helpful for various situations regarding communicating with service partners regarding donation coordination!

Once you have found & established a relationship with a service partner, you can start donating and distributing products to them! To do this, you can either hold a product drive, raise funds & purchase the product on your own, or reach out to PERIOD National and we can send you the product for free.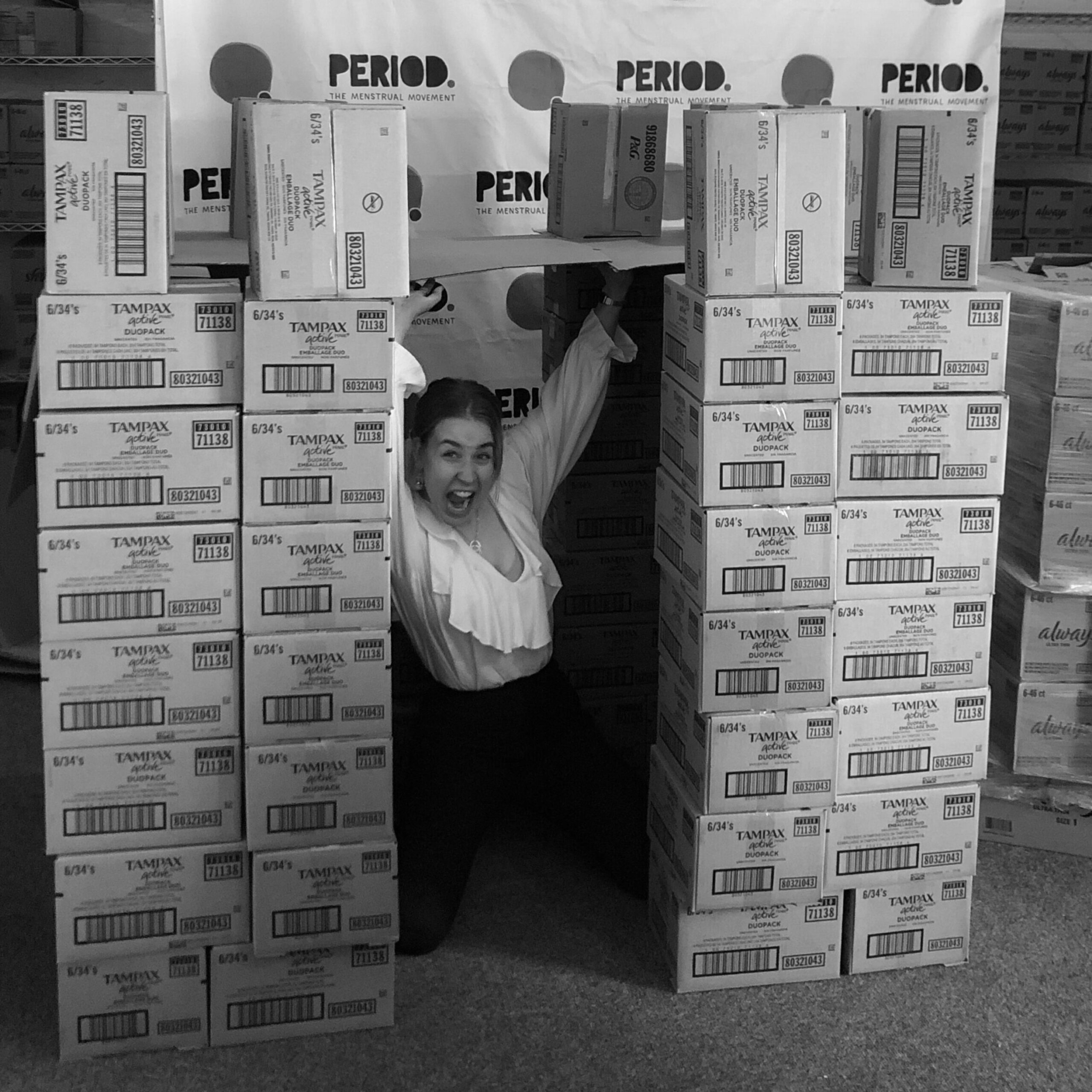 How to Host a Product Drive

Setting up the Drive Details
Before you plan a drive, you must find a partnered organization to whom you will distribute the raised product. Once you've done this, find a location for your drive (local business, school etc) that is willing to host product bins for the duration of your drive. Establish the WHEN and WHERE (how long will your drive last? Where in the building makes the most sense for the bins to live?)

Advertising & Preparing:
Get the collection bins that will be placed at your site. You can buy large plastic tubs at almost any large grocery store. You can also use large cardboard boxes. Make sure to have the PERIOD logo on them! Attach a poster to the box using staples or tape. It may be helpful to even have a visible counter next to bins, to generate excitement and make keeping track of them easier!
Create a 8.5" x 11" poster to advertise your Product Drive. Include on the poster: WHY people should donate to PERIOD, WHAT kind of products should be donated (pads/tampons/etc.) and also what cannot be accepted (i.e. open boxes if your partner won't accept them etc), WHERE donated products will be distributed, WHO your chapter is (include school or organization affiliation, Instagram handle, and any other chapter contact info!)! Make sure that all of the information is legible and understandable to everyone.
USE SOCIAL MEDIA TO ADVERTISE & ASK FOR DONATIONS!
Host the Drive & Follow-Up:
Check-in on the bin(s) regularly and move them to your storage when full. Keep an accurate count of products received--this information is useful both for your chapter and for PERIOD National.
Count the product before you donate. You never want your bin to get too full or overflow, so depending on how fast you're collecting the product, we suggest that you count up and donate the product every 1-2 weeks. We know counting can seem tedious, but it's really important so we can measure the success of this nationwide effort! PLEASE FILL OUT THIS FORM before you drop off the product at your service partner.
Establish a time for dropping off the product to your partnered organization, and do so in a timely and responsible manner. Don't forget to remove the bin when you are done with the product drive. Be sure to make various posts thanking everyone for their donations and efforts!